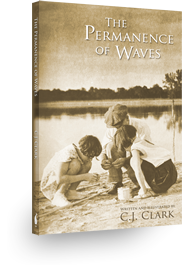 The Permanence of Waves
may be purchased from:
Langmarc.com
BookPeople, Austin
Kafe Eclectic, Austin
Bookspot, Round Rock
Book Shop, Marble Falls
Hill Country Books, Georgetown
Stinger Studio Gallery, Georgetown
Amazon.com
Barnesandnoble.com
Determined to carry out her mother's last wishes to care for her aging grandfather, Olive is disturbed by what she interprets as his unwillingness to accept her support —until she discovers a secret journal he has left for his great granddaughter, Lottie. Within the journal's pages, Olive learns to face her own rigidity and let go of what was never really hers.
Set in Otter Tail County, Minnesota, The Permanence of Waves is a lyrical excursion into a fabled land of blue water stones. It is an interweaving of two tales, an illumination of ordinary things. It is an enduring story of the lessons nature tries to teach us.
Reviews