When Annabelle Storm's husband dies unexpectedly, she tears up a letter he wrote alerting their daughter Lily of Annabelle's diagnosis of early onset Alzheimer's Disease.  Annabelle knows what she must do next.  She has to find and destroy the contents of a red box where she once hid her darkest childhood memories before Lily can discover it.  Her relationship with her daughter is far too fractured to withstand the discovery of Annabelle's grim history.  As Annabelle's chaotic search for the box seems more hopeless, she becomes fierce in her determination but finds she is powerless to stop the layers of her memory from being stripped away by her illness.
Months later when Lily comes across the box, she is shocked and transformed by the truth it reveals about her erratic mother.  It is in Annabelle's rare moments of childlike clarity that the two women are finally able to bridge the icy gap between them, laying unbearable memories to rest.
When Color Fades is a stirring look into the anatomy of memory loss and the frailty of misconstrued relationships. It untangles hard truth with gentle irony.  It explores a mother and daughter's turbulent pursuit of closure.
Cien Pamieci is the Polish-translated version of When Color Fades.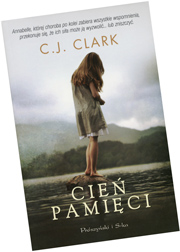 Reviews
Fabulous read
Fabulous character development. Accurate illustrations of the symptoms and tragedy of Alzheimers. The story grabs you and won't let go. I thoroughly enjoyed it.
—Linda RN from Amazon.com reviews
January 4, 2013
A heartfelt journey
The author is not only a skillful, descriptive writer but one with first hand knowledge of the effects of Alzheimer's disease on both patient and family by serving as a compassionate, caring charge nurse at an Alzheimer's facility. This novel is well written and a must read especially for anyone who has a loved one suffering from this disease. C.J. gives many insights into the behaviors which manifest during the progression of this disease and deals brilliantly with how those behaviors affect the people around them. As each character masterfully emerged, I felt them to be a friend and personal companion along this heartfelt journey. Everyone needs a friend like Tess to walk with and how wonderful it would be with more Pearls in the world. I couldn't put the book down and had to read "just one more chapter" until I reached the conclusion.
—Grandma from Amazon.com reviews, Texas
September 16, 2012
An enthralling journey
This masterpiece by C. J. Clark will intrigue those to whom to Alzheimer's Disease seems a distant mystery and comfort those touched most closely by it. This character-driven novel follows the uncertain paths of a mother and daughter as they find themselves in the shadow of a crippling truth. But do not be mistaken, this story is much more than the sum of its parts. The many voices we encounter along the way shed light into the women's lives as they once were and give new meaning to who they will ultimately become. Reading this book, I found an immediately accessible storyline, drawing me into the swirling lives of these women. Within the first few pages, I found myself immersed in the people Clark writes, eagerly advancing to join them at each inevitable turn. Each realization is crafted with gripping honesty. Then, as I anticipated what I imagined to be predictable encounters, a plot emerged from the depths of this emotional book which incites an ending of breathless suspense and hastily flipped pages. This beautiful, phenomenal novel is impossible to put down, and inspires repeat readings. Each new visitation reveals greater complexity of character and the same rush of anticipation as the first reading. This is a must-have book for all.
—Rachel from Amazon.com reviews
February 27, 2012
This novel doesn't "fade" it "bursts"
If you have ever had to care for a person with this terrible disease you know that patience and understanding are so important for the affected person and thier family and friends. The author does an amazing job of showing us the inside of how it affects those involved and makes the reader feel like they are right there experiencing it with the characters. I would share this book with anyone for the opportunity to learn, feel and grow in our understanding. I think we would all come out as more compassionate to others in the same circumstances as CJ's characters.
—R.J.S. from Amazon.com reviews
January 9, 2012
Fantastic wonderful book!
Got this book for my wife and ended up reading it myself. The book is extremely well written and you'll experience a rollercoaster of emotions. It's a fast paced read because you are so entangled in the story you wont be able to put it down. I dont have any experience with Alzheimers but after reading this beautiful novel I have more insight and understanding. I highly recommend this book and can't wait to read more of this brilliant author!
—FN, Texas
November 5, 2011
A gripping, powerful and important novel
When Color Fades is a powerful novel filled with page turning drama. It plunges headlong into the struggles of a erratic mother and daughter forced to face the things they have managed to avoid for decades as they begin to change roles--a painful but necessary road to closure before it's too late. The author's clear understanding of all aspects of Alzheimer's Disease is expertly woven into the story line without making the story about the disease exactly. This story and its vivid characters will hold you long after you finish reading it. It is gripping, moving, alarmingly real, poignant, funny, heart-warming and beautifully written. One of the best books I've read in a long time....
—CHM
October 21, 2011
When Color Fades Review
First, let me say you will not be able to read this book without a box of kleenix!!! I would give this book a hundred stars, if that were possible. CJ was able to portray her characters so well that I didn't want their story to ever end. It gave me a whole new insight towards my approach to my mom and her declining ability level. Thank you for your book. I am purchasing and sending copies to my dearest cousins and friends who are experiencing the same kinds of problems with aging parents. Take care and please continue writing.
—John J. Einwich from Amazon.com reviews
September 1, 2011
Blown Away by C.J. Clark's When Color Fades
I have gone on such a Journey with this book. It is so beautifully written, and quite a mystery-noir novel too. It transports the reader all over Austin and the Texas Hill County, and then to completely opposite lands up in Minnesota Lakes and forest country. CJ Clark is a wonderfully descriptive writer, and her empathy for Alzheimer's patients and family members is just MIND-BLOWING. So many times I have read books on Alzheimer's and they are sad and boring and just depressing. This one grips you right away, gives so much insight into the disease, but at the same time it's a wild and intense mystery novel from start to finish. I couldn't put it down, stayed up all night reading it. CJ's descriptions of the disease in the main character's mother, and leading the reader through all the comical yet hauntingly heartbreaking escapades her mother goes through, so exactly reminded me of our family's experience with my Dad. And with her descriptions of the nurse and aides working in the Alzheimer's section of a Nursing Home, her storytelling feels so very honest and right-on and funny and poignant. Truly the best, most interesting, gripping book I have read in a LONG time, and at the same time it's so understanding and empathetic to families effected by Alzheimer's and dementia. I LOVE THIS NOVEL SOOOO MUCH. I can't recommend it enough!
—Julie Wall from Amazon.com reviews
August 28, 2011
Wonderfully crafted
When Color Fades begins with the mysterious and alarming behavior of Annabelle. All of the players are very important and as I thought the book would dwell on characters I found to my delight that one of the characters experienced renewal with a brief, sensual foray into the Texas landscape almost as if the land and the air had a minor but important role. CJ incorporates this with a light touch. A special respite and a good lesson for us all. I enjoyed the mystery that drives Annabelle and finally I loved the discovery that resonates a mother's love. For all of the doubts I had about reading a book of this genre they have disappeared thanks to CJ Clark's delicate and profound handling of the subject. A wonderful author!
—Carol J. Baldwin from Amazon.com reviews
August 21, 2011
Extraordinary Family Saga
I couldn't put it down - read When Color Fades 'till I'd finished it - at after 3 a.m. It's an ultimate mystery/thriller! Yet an extraordinary family saga as well, that celebrates a daughter's unconditional love for her demanding mother who's devoured by early onset Alzheimer's Disease. When Color Fades is a must read!
—dsalts from Amazon.com reviews, Wichita, Kansas
August 5, 2011
Trisha loved this book
I did not expect for this book to be one of those you didn't want to put down, but it surely was! I was afraid it would end before I was ready for it to but CJ managed to bring it all together with some expected endings and some very big surprises. The alzheimers part of it touched me personally as I am sure it will for many. It is a very touching story and I fell in love with some of the characters. It is very well written and makes me want more!
—Trisha on Amazon.com reviews
August 5, 2011
Struggle, Secrets, and Finally, Hope
As a mother's life unravels, a daughter struggles to piece together the elusive events of that life, which have so scarred her own. "When Color Fades" transports the reader into Lilly's quest to understand not only what is wrong with her mother, Annabelle, but what Annabelle is hiding and why. C. J. Clark illustrates what happens as Alzheimer's disease progresses, and how this affects the afflicted person and those around them, from family to total strangers. Her handling of the subject is nonjudgemental and dignified. As Lilly investigates the past in a small town and the pain of family secrets, a new ally emerges in the form of Pearl, who becomes a friend to Annabelle and helps bridge the painful gap between mother and daughter. "When Color Fades" shows human beings at their worst and their best, contrasting how we sometimes treat those closest to us versus complete strangers. For those who desire a sense of hope, you won't be disappointed. Recommended reading. You won't want to put it down.
—Kelley Saveika on Amazon.com reviews
July 18, 2011
A touching read that is very much worth considering for literary fiction collections
The truth is sometimes the last thing you want. "When Color Fades" tells the tale of Annabelle, a woman who with the lost of her husband, and the fading of her own mind from Alzheimers, is in a race to protect the already fractured relationship with her own daughter. In a rush against her daughter and her own loss of mind to take a box and destroy the remnants of a grim secret that she holds could make her lose her daughter to hatred. But the truth cannot be hidden forever, and it will have untold impacts on Annabelle and her daughter's lives. "When Color Fades" is a touching read that is very much worth considering for literary fiction collections.
—The Midwest Book Review, Oregon, Wisconsin
July 10, 2011
Aspects of the novel
When reading a novel, I often use Ian Forster's aspects of the novel as a critical back drop. C.J. Clark has done a masterful job in her latest novel by succesfully integrating strong characterization, an intriguing plot, and rythm and pattern. It is very hard to get through this novel without developing strong connections to characters like Pearl, Clancy and, of course, Annabelle and Lilly. All of the characters come alive for the reader. The plot intrigues the reader almost immediately and builds to a most succesful ending. It is a page turner. This complements the rythm and pattern of the novel as well. The novel builds to a strong ending which is particularly effective within a series of highs and lows which seem to be a reflection of the characteristics of Alzheimer's disease. The novel is sensitive, perceptive, and most of all, a really good story. Read it. You will be glad you did.
—Cricket Path on Amazon.com reviews
July 5, 2011
Heart warming, page turner
The characters are so well intertwined through this heartwarming, page turning adventure that you just cant relate to one of them alone. It reveals the true depth of Alzheimers and it's effects on everyone it touches. From the nurses and caregivers, to the family and friends. I related best to Clancy, a character in the novel who portrays the nurse in all of us. The relationship between Tess and Lily demonstrates what a true friendship should be. A must read!
—m&m from Amazon.com reviews
June 17, 2011
Incredible depth, perceptions, descriptions and a good mystery as well
The life of this book quickly saturates the reader with the lives of people you feel you know. It's an immersion into a feeling of "this could be me." From the start it's obvious there are secrets, but it's never obvious they will be revealed. Nothing is predictable. The author somehow causes you to identify with more than one character, which tugs and pulls at all you thought you knew. This is the kind of book that you actually live alongside the characters. Events in the book become your events. The characters pain becomes your pain. There's a humble beauty to the author's obvious grasp of Alzheimer's Disease and the effect it has on so many people. It reaches backward and forward. Will you know the signs? Is it fair if you didn't? I am so smitten with this book, all the characters, the layers of emotions and the unexpected journey. When you finish the book, I know you'll find yourself looking for the Annabelles and Dr. Finleys of the world. You'll see these characters in your daily life.....but perhaps for the first time. You'll wish someone like dear Pearl will find you someday to steer you in the right direction. Such incredible depth, perceptions, descriptions and professional insight. The tapestry of life it created for me is a wake up call.
—PCT on Amazon.com reviews
June 17, 2011
A must read
This book paints a picture of the tragedy and triumphs of a family's struggle to mend a broken relationship. The story will thrust you into different emotions, so be prepare for the ride. I guarantee you will be a little more kinder, more understanding, and exercise a little more patience, with the elderly. This is a must read.
—Charmy on Amazon.com reviews
June 13, 2011
Very Emotional
My wife has recently been admitted into the Alzheimer's unit where the author of this book is the charge nurse. In amazing detail she paints a realistic picture of residents and staff who occupy such a unit. She opens a window into this dreadful disease by showing real life experiences of a mother and daughters struggle to understand and cope with it. The author has an amazing insight into this disease. I highly recommend this novel to anyone who has a loved one with Alzheimer's. I wept, cried, and even laughed at times though out the book. A must read.
—Rev. Daniel W. Blair, Round Rock, TX
May 30, 2011
A Fascinating Read
When Color Fades captures interpersonal dysfunction as it changes with the progression of dementia ... A surprising resolution.
—Dr. Richard Tallman, neurologist